Specials as of

Highlands Tour
Tour Trail Combo
Inca/Ancient Peru
Mystical World


Cusco/Machu Picchu
Inca Trail Trek
Amazon Jungle
Macaw Lick
Tambopata Center
Manu Reserve
Lake Titicaca
Nazca
Chiclayo
Trujillo
Lima
Galapagos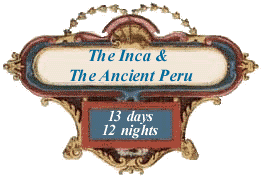 | | |
| --- | --- |
| Day 1- | Upon your arrival into Lima you will be met and transferred to your hotel in Miraflores for your overnight. |
| | |
| --- | --- |
| Day 2- | Today our staff will take you to the pre-Inca archaeological ruins of Pachacamac outside the city of Lima. Afterwards continue to the Larco Herrera Museum where there is approximately 45,000 pre-Columbian ceramic pieces are housed. Afterwards you will return to your hotel in Miraflores. |
| | |
| --- | --- |
| Day 3- | Today you will be transferred by Royal Class Bus Service to Paracas and to your hotel Later your guide will take you to the Paracas National Reserve. Later you will return to your hotel in Paracas. |
| | |
| --- | --- |
| Day 4- | In the morning you will travel by boat to the Ballestas Islands where a variety of animal life from penguins to seals can be viewed on a daily basis. Later transfer by private car to your hotel in Ica or Nazca. |
| | |
| --- | --- |
| Day 5- | This morning our local staff take you to a nearby airstrip for your overflight of the 2,000 year old Nazca Lines where the late Maria Reich dedicated her life a studying these mysterious remains of the Nazca Indians. After your incredible scenic flight you will return by Royal Class Bus Service to Lima and then to your hotel in Miraflores. |
| | |
| --- | --- |
| Day 6- | The day begins with a tour of the incredible Gold Museum which has hundreds of pieces of artifacts from the Inca, Chimu, Chancay, Nazca, Paracas & Wari cultures. In the afternoon our staff will transfer to Lima airport for your short flight to Chiclayo. Upon your arrival you will be transferred to your hotel, remainder of the evening on your own. |
| | |
| --- | --- |
| Day 7- | Today your day begins with our guided tour of the Bruning Museum where artifacts from the surrounding area can be observed. Later, your day continues to the archaeological sites of Tucume, Pampa Grande & Lord of Sipans tomb. Where you can view one of the most significant archaeological discoveries of the twentieth century. In the late afternoon our staff will transfer to Trujillo where you will overnight at your hotel. |
| | |
| --- | --- |
| Day 8- | A morning tour takes you to largest adobe city to have ever been built, Chan Chan. Afterwards continue to Huanchaco and the archaeology of El Dragon ruins in the late afternoon. In the evening our staff will return you to the Trujillo airport for your flight to Lima and then to your hotel in Miraflores. |
| | |
| --- | --- |
| Day 9- | Our staff will transfer you to the airport for your short flight to Cuzco where you will be met and escorted to your hotel. Relax the remainder of the morning with a cup of the local tea to help acclimate to the 11,400 ft. altitude of Cuzco. In the afternoon our guide will meet you at your hotel and take you to the historical and archaeological sites inside the City of Cuzco and to the most important archaeological ruins of Kenko, Tambo Machay, Pucapucara and Sacsayhauman. Return to your hotel in the early evening. |
Day 10-
Today our guide will take you into the Sacred Valley of the Inca where its breath taking scenery through the Andean mountains lead to the Indian market town of Pisac. Here you will have time to mingle and shop just as the locals have for hundreds of years. After lunch at a small hacienda our guides will take you to the Inca fort of Ollantaytambo where the Inca fought their final battles against the Spanish tyrants. Return to your hotel in Cuzco in the early evening. ( L )
( optional overnights in the Sacred Valley available )
| | |
| --- | --- |
| Day 11- | Your day starts early with a three hour train journey winding through the Andean country side passing through small Quechua Indian communities where you will have a chance to get a taste of some local corn known as choclo and cheese. Upon your arrival into the town of Aquas Calientes your anticipation of the fabled lost city of the Inca over comes your tired body from the long train ride. You will then transfer by bus up the narrow winding road that will lead you to the Celestial site of Machu Picchu. Here the guide will explain the history and myths that surround this incredible archaeological wonder. Remainder of the evening on your own. Transfer to your hotel for your overnight.( L ) |
| | |
| --- | --- |
| Day 12- | Today you will have the full day to explore Machu Picchu and its surroundings on your own. (We suggest to take a picnic basket on a short hike to Wayna Picchu or to the Inti Puku Pass ( Gate of the Sun ) where you can get a birds eye view of this massive site. In the late afternoon ( 3:00 p.m. ) you will depart Machu Picchu with many memories that a picture will never tell. After your return to Cuzco you will be transferred to your hotel for the remainder of the evening on your own. |
| | |
| --- | --- |
| Day 13- | Our staff will meet and transfer you to the Cuzco airport for your flight to Lima where you will transfer on your own to your departing flight out of Peru. |
| | | | |
| --- | --- | --- | --- |
| CLASS TYPE | SINGLE | DOUBLE | TRIPLE |
| BARATO | $2269.00 | $1779.00 | $1639.00 |
| ECONOMY | $2529.00 | $1919.00 | $1799.00 |
| TOURIST 3 star** | $2619.00 | $2109.00 | $1859.00 |
| FIRST 4 star** | $2819.00 | $2219.00 | $1999.00 |
| FIRST 5 star** | $3489.00 | $2549.00 | $2229.00 |
| EXECUTIVE Jr. suites** | **call** | $2999.00 | **N/A** |
EACH PACKAGE IS BASED ON PRICE PER PERSON AND INCLUDES:
4 NIGHTS IN LIMA, 2 NIGHTS IN NASCA/PARACAS, 1 NIGHT TRUJILLO, 1 NIGHT CHICLAYO, 3 NIGHTS IN CUZCO, 1 NIGHT AT MACHU PICCHU.INTERNAL AIR, ALL TRANSFERS, ENTRY FEES, TOURS AND MEALS AS NOTED.
** INCLUDES BUFFET BREAKFAST

E-Mail Us for customized packages to Peru.
Or Call us at 1-888-2-GO-PERU
Thanks for your patience.
---
TAMBO TOURS ©2000.
Web Page design and maintenance by Imagitech Web Professionals.

---